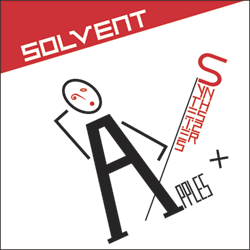 It's not as tinkly and precious as his previous releases, but the new record by Canadian kid Jason Amm (a.k.a. SOLVENT) "Apples & Synthesizers" on Ghostly Intl is like listening to a long lost Yaz record. while it's slightly irksome that Amm would take a retro approach, he gets the old Mute records techno-pop sound down correctly while somehow maintaining his own original sense of melody. recommended for club posing as well as for home listening.



Speaking of sweet techno-pop goodness, I have to say the new, fourth full-length by UK computer popper and all-around goofball GLOBAL GOON, "Family Glue" on the US label Audio Dregs is surprisingly amazing. while Mr. Goon a.k.a. Johnny Hawk is perhaps most notable for being an ex-roommate of Richard "Aphex Twin" James, he is perhaps lesser known for being an inventive, playful techno melody master. he's always got a beat that sports a smile, and is one of the few electronic artists that succeeds in infusing his own voice into the mix. slightly silly, but you'll want to play it again, sam.



The new 5-song debut by washington, d.c.'s MEDICATIONS — a trio of technical superstars, two of whom were members of the smart-punk trio Faraquet — is a hot little numberino. They're not as willfully angular as Faraquet, but just as immediately gratifying. Dischord's newest power trio has found the perfect combination of distorto-prog AND pop, and it satisfies.



SIGHTINGS are a three-piece rumble-unit form NYC whose new Load Records full-length "Arrived In Gold" shines brighter than any gauntlet they've thrown down thus far. rumor has it their new record is "minimal", but i beg to differ — it just has a unique soupy space to it and some spooky keyboard-like sounds that give their signature murk some perk. the guitar is as razor-sharp as ever and cuts through the band's new drugged-out sound, which is as blissful as any Bardo Pond or Sonic Youth record, but has a spiteful sting to it to remind you this is no hallucination.



DJs, vinyl junkies, and long-time fans of THE ORB will find much delight in "Komplott" — the ultraworlders' latest 12″ installment for the popular German Kompakt label. While two of the single's three tracks have that signature plodding Kompakt bump, and sound more like their label mate and co-producer compatriot Thomas Fehlmann, there is a familiar orb-esque lushness that filters through the dancefloor grind. come-hither mini-melodies waft above a river of synth and pockets of pulsating bass, beckoning listeners to take to their feet and wipe the post-rave comedown from their eyes. Who knows where Alex Patterson's newest trip through the Rheinland might lead, but I'm going to stick around to find out.
–Johnathan Rickman
One Response to ""Apples & Synthesizers," The Orb, and a few more quick reviews"