An Interview with James Murphy of LCD Soundsystem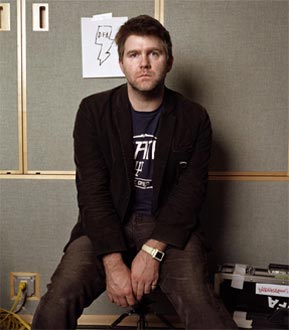 At FREEwilliamsburg, we're pretty open about our love for DFA and especially LCD Soundsystem. It started with "Losing My Edge" but really kicked into gear with the brilliant "Yeah" single, and we were looking forward to LCD's debut full-length (due out next month) for most of last year. (It's great and people will be talking about it very soon). So needless to say, we were pretty excited to do an email interview with DFA producer and LCD frontman James Murphy. Among other things, Murphy talks about tour plans, DFA's relationship with EMI, his first concert, and "L train nonsense." This interview is also available in its entirety at One Louder. Enjoy.

Q: We're always curious to know people's first concerts. What was yours?
A: It was the Ramones at City Gardens in Trenton, New Jersey. Not sure what year. Maybe '83? It was fucking louuuuuuud. I saw Iggy the same week and thought my head was going to cave in. For some bizarre reason I think Fishbone also played both shows. In fact, I think Fishbone may have played every show in the 80's ever. And sold that shirt, too.
Q: We used to think of LCD Soundsystem as your solo project, but live it's clear that LCD is very much a band. When did that transition happen?
A: There's never been a transition. You'd really have to tell me when the transition happened, as it's largely a transition of perception, which is in your court. I write the music and record most of the instruments, produce, etc. But then we go play, all 5 of us, as some form of, I don't know, LCD tribute band. We're like "The Edge Losers" from New Jersey or something. We're a really good tribute band.
Q: Songs like "Never As Tired..." and "Great Release" sound very different from your first singles - were you trying to make the early songs dancier, or do you think your sound has evolved?
A: I think the earlier songs were "dance" 12"'s, these songs are on an "album." Sort of like when "Give It Up" came out as a 7"... it sounded to me like a 7", not like a 12", so it's on a 7". I wanted to make an album. I think of albums as things with beginnings, middles, sides, last songs. Not as dance compilations. Unless, of course, they're dance compilations ... which, um, this isn't.

Q: We heard there was an earlier version of the album that you weren't happy with - is that true?
A: No, but I like rumors, so print it if you like. Rumors make rock
funny.
Q: Any LCD tour plans for '05?
A: Yes. We're going to Europe and Japan in February, and the UK/Europe in April. I don't know what to do in the US. I have no idea what we ARE here, really. I mean, does anyone want to see us in the States? I really don't know. I want to play in New York again soon. I'm not so into the fact that we don't play here EVER. It's kind of a downer. Gotta fix that.
Q: It seemed like everyone had an MP3 of "Yeah" (and was talking about it) within weeks of it leaking last year - do you think downloading's popularity has helped your band?
A: I don't know. It hasn't made us any money, for sure, but it's not like people were going to buy it anyway. It's a DJ record. It helped to give people another thing to listen to other than "Losing My Edge."
In general, I think downloading is funny. I like the little moral games we do in our heads to justify it. It's neat. I like the fact that people heard the song and talked about it. That's nice. I think it's fine.
Q: How did your relationship with EMI come about?
A: EMI came about because I met a lot of people there when the Rapture blew up and became too big for us. Suddenly there were people knocking on the door and asking to take them from us. EMI, and especially the crew at Parlaphone (who handle Radiohead, et al.) were worlds apart from the rest. They had records that were successful while kind of strange. They had artists on the label whose careers took time to develop. They had a stable GM in Keith Wozencroft who wasn't as obviously expendable like [the people] the other companies had. We tried to put the Rapture there and set up DFA with them, but the band wanted to go to Universal.
I didn't like Universal one bit, and didn't want DFA doing a deal with them, so we separated.
It broke our hearts. We had lost a band, our friends, basically because we weren't stable enough to support them and take care of them when they'd, well, grown up. It pretty much destroyed us for a year, and when we bounced back, I made my record and decided that the best thing to do was to put the record out where I thought the Rapture should have gone, and use myself as a guinea pig, while setting up a simple distribution type deal for the rest of the label. If all went well, then we could get more involved with EMI. If all went badly, well, it's only my record, which I could live with, rather than risking the careers of my friends. I mean, I wasn't planning to have a "career" in rock anyway. I'd settled on being a DJ and producer, and just putting out the occasional 12". So it's like a free shot.
Q: Humor seems to play an important part in your music. Are there any comedians who've inspired you?
A: I think Henry Rollins is pretty funny. But nobody - and I mean
nobody - gets a room going like Ian MacKaye.
Q: We dug your track with Felix Da Housecat. Are there any other artists you'd like to work with?
A: Not really. I don't like collaborations that much. That said, I'll probably do a bunch of them this year. I'm gunning for a duet with Pharrell. If that doesn't pan out, I'll make a track with Tim Goldsworthy. I like his shit.
Q: What's in your stereo these days? Anything new you're looking forward to hearing?
A: Today I listened to Siouxsie's album Kaleidescope, John and Yoko's Double Fantasy and Aphex Twin's The Richard D. James Album. God, I feel like an asshole. New stuff? I like Mu, and Hot Chip, the DFA artists, Animal Collective stuff. You know. L train nonsense.
Q: So is it worth trying to track down anything from your old band Pony?
A: Not really. Go buy the Adam Green record instead. That song "Jessica Simpson" is so good that I wish he made tons of money for it. Go get 2 friends to buy his record, and tell them to get 2 friends, and so on and so on, so that more people will put that song on in their houses at dinner parties in 10 years. It'll make Adam rich, and it will improve the quality of future get-togethers, all at the same time.

Q: Finally, as fellow Daft Punk fans we have to ask -Homework or Discovery?
A: Jeez, that's tough. I hate to be like this, but I think it's Homework. I wish I could vote for the underdog, and I really like Discovery, but Homework is, well, pretty fucking
sweet.
LCD Soundsystem's self-titled debut will be released on February 15.
Interview by Rajeev Muttreja and Jason Bell
Photo credit: Tim Soter