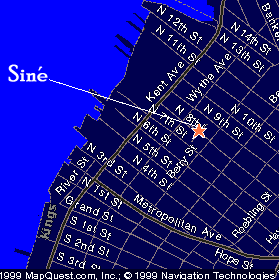 "TEEEEEEEEEEE-NAAA!"
My sleepy eyes popped open, my chest tightened.
"TEEEEEEEEEEE-NAAA!"
'What the hell?' I grumbled, pulling myself from my bed to the window. There she was, a dolled-up twenty-something. I had seen her and a few friends wonder over to Teddy's Bar and Restaurant an hour or two earlier. She had probably drank a margarita or two, and now the entire block was suffering for it.
"TEEEEEEEEEEE-NAAA! TEEEEEEEEEEE-NAAA! YO, GIRL, WHERE YOU GOIN?"
Enraged that she was too lazy or drunk to trot down the block to catch up with her friend, I tore open the sash.
"Hey- what are you doing?"
She looked at me in shock.
"Quit yelling. People live here. There are families and children. This is a neighborhood."
She snapped, "Yeah, o.k.," and then returned to looking down the block. "TEEEEEEEEEEE-NAAA!"
That was it, I redlined. "Hey, you idiot, what's wrong with you? How would you like it if I stood outside your home and screamed like a jackass? Cut it out!"
She cocked her hip to one side and delivered. "Yo, what do you want me to do? You wanna come out here and settle this?"
I almost convulsed with laughter. As if she could kick my ass. And for what?
"No," I retorted, 'I'd like you to shut up and attempt to behave like a civilized human being instead of a piece of trash coated in Maybelline. Or is that too difficult for you?" I then slammed the sash and pulled the curtains.
Returning to bed I had visions of her tearing the flower boxes from my windows, stomping my sweet gardenias to death. Then I wondered how many of these sorts of crass fools I'd have to deal with when Sine opens in the next month or two. Sine, as you've likely heard, is supposed to be a music venue and bar, with room for almost 300. It's tucked between the homes of a lot of elderly Polish people on N. 8th between Bedford and Berry.
In the past two years the two block stretch of North Eighth between Bedford and Wythe has become louder and more populated. At least a dozen times in the past year I've been awakened by drunken boobs or imbeciles hollering in their cellphones. And the number of times that livery cab drivers have pulled up outside the local bars and then blared their horns is innumerable.
What can be done? I'm tempted to begin hanging signs about the neighborhood that read, "Welcome to Williamburg's Northside, where people live AND SLEEP. Please keep that in mind." And if that doesn't work, perhaps I'll buy a paintball gun and begin popping the idiots from my rooftop.