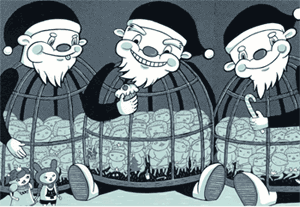 Protest the MoMA's $20 entrance fee. Head out to Long Island City for some free art:
Flux Factory proudly presents:
CUTE AND SCARY
through Dec 18th, 2004
an exhibit that will showcase works by emerging artists raised within a milieu where comics and Japanese animation began to reveal a dark side beneath the Hello Kitty exterior.
featuring:
Ciou
Aya Kakeda
Camille Rose Garcia
Mickry 3
Miss Van
Eun-Ha Paek
Saya Woolflak
Click here for info and directions.
One Response to "Cute and Scary"