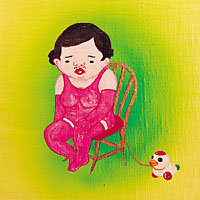 A cause and effect relationship exists between good songs and bad cover bands -- I think you can guess how this works. Years of extensive research at youth talent shows, weddings, Bar Mitzvahs, and motel cocktail lounges has lead me to a simple conclusion: everyone wants to be a rock star, but few have the talent to actually make it happen. In the unlikely event that any of you attended Jeff Gunthart's kegger during the Spring of '95, I offer you my most sincere apologies for my band's unrecognizable renditions of Led Zeppelin's "Over the Hills and Far Away" and Mother Love Bone's "Chloe Dancer." You will be comforted to know that the band -- we weren't even talented enough to think up a name -- broke up less than a week later because of, ummm, creative differences.
Hell, there's nothing cool about publicly debasing a good song. I learned my lesson; at least, I thought so. But recently, after listening to "Downhill From Here," the memorable first track on Jim O'Rourke's new album, Insignificance (Drag City), I briefly considered rounding up the boys for a reunion tour spanning rec halls, gymnasiums, and suburban living rooms across the Northeast.
Right now, if I had my pick, "All Downhill From Here" would be my permanent Saturday morning soundtrack. Cue drum intro and hip-shaking guitar riff as I roll out of bed groggy and a bit down after the previous night's debauch, knowing that soon I'm about to feel either much better or much worse. Despite the sardonic tone of the song and the somber title, the fuzzy guitar hook and driving drum track give the song a down-but-not-out feel - as if the solution to my hangover and O'Rourke's love life might be a bit of the ol' hair of the dog.
I'm fairly new to O'Rourke's music. I remember him from his days in Gastr Del Sol, the experimental/jazzy/bluesy/folky/poppy Chicago duo that disbanded in 1998, and his free-form musings with Loren Mazzacane Conners, Tom Surgal, Thurston Moore, Lee Ranaldo, and William Hooker, among others. His name surfaces frequently in the credits of Sonic Youth, Smog, and Superchunk albums playing everything from guitar, to cello, to hurdy-gurdy. Mostly though, I'm familiar with O'Rourke's work behind the mixing board. He's left his mark as producer/remixer/engineer/boogie-twitcher (the latter was credited to O'Rourke in the liner notes to Brainiac's 1997 release Electro-shock for President) on releases by Stereolab, U.S. Maple, John Fahey, Tortoise, Will Oldham, and Faust. (For a full, jaw-dropping list of O'Rourke's exploits please visit Seth Tisue's fan site: http://tisue.net/orourke.) At the risk of damaging any small amount of indie-cred that I might possess, I must admit that before Insignificance, O'Rourke's twelfth solo album, it never occurred to me that he spreads his talents equally on both sides of the sound booth.
Plugged into my disc man and strolling 7th Ave. in Park Slope, my palsied head-bopping drew some unwelcome stares as I digested Insignificance for the fourth time in one day. I stopped by my local record shop to pick up some of O'Rourke's earlier albums, Eureka (Drag City, 1999) and Happy Days (Revenant Records, 1997), and headed back home intending to play them both to death.
My first impressions of Eureka: Recorded and arranged brilliantly, at times folky, at times spacey, and though it contains a few gems -- "Ghost Ship in a Storm," "Please Patronize Our Sponsors," and a dramatic rendition of Burt Bacharach's "Something Big" e- the album is most likely destined for the CD graveyard below my stereo.
Happy Days: As a fan of John Fahey, and being that this is the debut release on Revenant Records, the label he co-founded, I was excited to see what O'Rourke came up with in conjunction with the influential finger-picking legend. What O'Rourke came up with: One song, 48 minutes in length. For the fist five minutes, O'Rourke plucks one open D and then the other in a dropped D-tuning maintaining a dirge-like tempo. At first, I took the monotonous drone to be the sound of my own impending insanity. I was wrong. The song momentarily transitioned into a soothing melody; then a throbbing wall of high-pitched string noise began to build around O'Rourke's repetitive finger picking, eventually masking the guitar entirely. The song finally settled on the exact toneless groove capable of turning a good man into a quivering, bloodthirsty lunatic. Until further notice, my copy of Happy Days will remain locked away in a safe place; I'll dig it up and give it a second chance when my mind and spirit are strong enough to withstand the temptations of the dark side.
Insignificance, on the other hand, is a smooth ride from start to finish. A bit short maybe, seven songs and 38 minutes in length, but I'll take quality over quantity any day. O'Rourke is backed by a group of players drawn largely from Chicago's indie/alt-county/avant-garde scene, most of whom have also played with him on various solo projects, off-shoots, and incarnations. The most high-profile member of O'Rourke's back-up band is Jeff Tweedy, impish front man of Wilco, who plays guitar on several tracks and harmonica on "All Downhill from Here." O'Rourke mixed Wilco's forthcoming album, Yankee Hotel Foxtrot, and collaborated with Tweedy on a side-project that may or may not be available to the buying public in the near future.
Insignificance is a straightforward pop album with folk leanings. No single song outshines the rest. The album flows together shifting from high-powered riff-driven compositions to low-key meandering acoustic numbers touched by subtle instrumentation, notably Ken Champion's drifting pedal steel fills on "Good Times" and "Life Goes Off," and Rob Mazurek's subdued coronet on "Get A Room." O'Rourke's vocals and guitar work remain full and unassuming throughout the album; his thoughtful arrangements validate his rep as both an inspired musician and a recording savant.
The album's worth checking out if only to peep the interesting/disturbing cover art by Japanese cartoonist Mimiyo Tomozawa. The cover depicts a chubby wo/man of Asian descent, seated, with a toy duck tethered to the back leg of his/her chair. S/he would be a woman if not for his/her mustache and the hint of chest hair peeking out from his/her pink dress, and would be a man if not for his/her supple and well-proportioned breasts. Another painting by Tomozawa in the liner notes shows a balding, round-featured Asian man with a Hitleresque mustache, naked, and getting humped doggy style (and willingly it appears) by a pink octopus. Insignificant? Your guess is as good as mine.

Free Williamsburg© | 93 Berry Street | Brooklyn, NY 11211
[email protected] | December 2001 | Issue 21
Please send us submissions