AKA the New York Decompression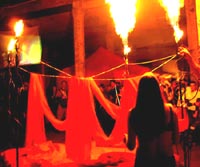 Word of mouth is a powerful thing - it now spreads faster, through Internet chats, emails and instant messaging. I got this flyer in my inbox (http://www.sealspace.org/flyer.htm) the same day a co-worker mentioned it to me. I dutifully forwarded the message and a flurry of pre-party activity began.
The New York Decompression AKA Funk'n Decom was originally slated as the Burning Man faithful's 2001 reunion/2002 kick off celebration. After an autumn in New York that deflated the artistic community's collective spirit, the term "decompression" took on a deeper meaning. Was it safe again to laugh, to get wild, to be surrounded by fiery objects and strange, wonderful people en masse?
I arrived a little after 8 PM, sans costume, though donning a wig and some makeup would have saved me $5 off the $15 admission. Right away I was impressed by the organization, the professionalism (despite the wild costumes) and the welcoming nature of the front table staff. I felt strangely secure in the presence of bouncers once I had paid, and trundled off to the freight elevator with my cohorts and a giddy crowd of revelers.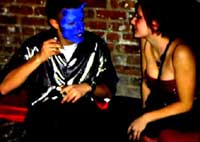 I paused to talk to the friendly black winged angel - she seemed less gothic and more dark sprite. Being a volunteer, she happily answered my questions about the event, (a yearly occurrence), the cost of the space (approximately $4000/night), and the time/effort and people involved. Not one for typical New York club pretensions, she cheerily introduced me to her boyfriend, the current elevator attendant. He had attended Burning Man last year and she was eager to join him in 2002.
We were politely directed to the coat check and the drink tables - again, an impressive show of organization without attitude. A tip bucket was displayed, suggesting but not demanding dollar donations - what a change from expensive, rude clubland coat checking. Two very friendly people, who patiently waited for boozers to choose their poison, in tickets, manned the drink ticket table. Beer was cheap at $4 a can, sake and sangria $5 a bottle/glass.
Tickets in hand, I led the way to the bar, attended again by volunteers, who cheerily poured and served us our selections of sangria, sake and beer. The sangria was delicious, full of fruit and not too sweet. The beer was cold and ready - on tap or in the can. The sake was cheap - that was its only lure. At a table on the other side of the giant loft space, a strange professor proffered homemade herbal concoctions, including Yohimbe, mixed in with tea.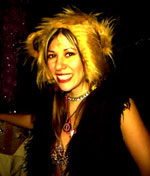 We wandered around, being early birds, and checked out the various rooms, artwork and antics. There was a huge inflatable room, which from the outside had some psychedelic colors projected on its outer skin. Inside, it was dark, with strange variations on beanbag chairs made out of white garbage bags. Another inflatable room, dubbed "the high roller's VIP lounge", was simple a giant red die, and the rolling inside was not Yatchzee.
Art was hung, projected, placed, displayed and shown on every surface possible. It was an amorphous exhibit, where murals were installed next to metal fire sculptures and strings of tiny holiday lights. Assemblage seemed to creep out of every nook, photography hung from paper clips and strings of tinsel. A huge inflated spiked balloon hung over the dance area in front of the stage. The largest piece of art was a working carousel that blew bubbles and was festooned with fake animals, flowers and ribbons - literally a maypole come to life.
The best art came in the form of costume - everything from sexy and coy to day-glow and freakish. I saw fishnets, cats, devils, angels, construction workers with glowing appendages, wigs, body makeup and plenty of body parts, from both sexes. If you didn't come with a costume, there was a painting table where you could paint your face or body or help someone else with their paintjob. To top off the joy of artifice, the grandmaster presided over an open entry fashion show, where anyone could join the parade on stage and show off the strange and beautiful creation they made out of their bodies.
There was never a moment where something wasn't happening - bands played, DJs spinned, a marching band reminiscent of a New Orleans funeral procession played raucously through the crowd, a line of dancers following behind. Fire was a huge part of this event - baton twirlers and fire breathers took to the dance floor, putting on a short show, while all around the huge loft space various metal sculptures came to life, spouting flames. The most alluring was the flaming bed, dressed in red sheets, with bed posts that spouted huge plumes of flame.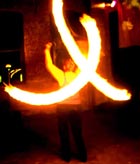 The night wore on, with people making glow in the dark art - coloring vulva line drawings with day glow crayons. The dancing became more frantic, the lounges filled while people rested and dozed. No fighting, no crazy drunks, just pure joy in sharing dances, drinks and art. I truly felt decompressed as I headed out at 2:30 AM, and the party seemed to be growing (it was a dusk 'til dawn kind of event). On the way out, the lines snaked out the door and down the street, everyone eager to get upstairs. I would have to say this was the safest, friendliest party experience I have ever had in New York.
Rumor is this is going to be a weekly event from now on…keep checking http://www.sealspace.org for updates and to get on their mailing list.
By Melissa Multo
© multo.com 2001

Free Williamsburg© | 93 Berry Street | Brooklyn, NY 11211
[email protected] | December 2001 | Issue 21
Please send us submissions