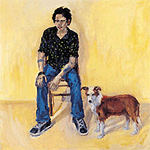 Earlier this year, Papa M (David Pajo's most recent solo vehicle) put out a very surprising EP entitled Sings. It sounded like it was recorded by a bunch of hillbillies in a shack. I mean in a good way. It was wonderfully folky and was filled with some very entertaining banjo picking. Though I thoroughly enjoyed the record, I must admit I dismissed it as an inconsequential genre piece.

Pajo has one of the most notable resumes in indie rock. He was a member of bands including Slint, Palace Brothers, and Slint and has played on records by Royal Trux and Stereolab. Traditionally a bass player with a passion for audio experimentation, Pajo has always placed himself in the background. On Sings Pajo introduced his shaky baritone to the world along with a new-found talent for writing great rootsy folk.

Whatever, Mortal is Pajo's strongest solo venture yet. Similar to Sings, Whatever, Mortal has a very rootsy feel to it and yes there is plenty of banjo to be found here. What makes it unique is Pajo's successful merging of traditional songwriting with his flair for experimentation (as shown in the past with bands such as Tortoise). Pajo is backed by the class-A cast of Tara Jane O'Neil, and Will Oldham who accentuate Pajo in subtle, but important ways. Oldham's influence is especially noticeable giving the record a feeling similar to his own masterpiece I See a Darkness.

Though Whatever, Mortal is at times a tad melancholy, Pajo is not afraid to experiment and even make light of his music. Take "Purple Eyelid," for instance, with its playful sitar introduction and "Krusty" with its hilarious Lisa Simpson sample murmuring beneath the music.

And don't blame Pajo for jumping on the folk revival bandwagon... he was making records with the Palace Brothers long before the trend began.
--Robert Lanham



Free Williamsburg© | 93 Berry Street | Brooklyn, NY 11211
[email protected] | December 2001 | Issue 21
Please send us submissions