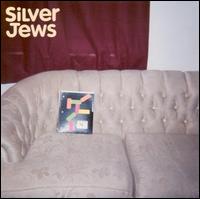 Sometimes I wish that David Berman, brainchild of the Silver Jews, were married to a kind-hearted, voluptuous model who holds degrees in both Astrophysics and shiatsu massage; they, of course, live in a modest, vine covered mansion in middle-America, built with the budding fortune created by Berman's songwriting career. There, on the front porch, Berman frequently sits cross-legged looking out on his vineyard and fleshing out wrenching acoustic numbers on his six-string, distracted only by the soft kisses that his wife -- the hot model -- places on his forehead as she travels between house and garden while planting rows of tulips in a series of interconnected heart-shaped patterns. That is to say, I wish he were hugely successful and happy. But Berman writes sad songs; and unfortunately, the most convincing sad songs are written with a lonely heart and an empty pocket, by people who glimpse happiness from the periscope depths of depression.
Listening to Bright Flight (Drag City), the Silver Jews' newly released, fourth full-length, I was oddly compelled to pull out a yearbook and stare at a picture of my high-school sweetheart, a devilish, dark-haired beauty pictured in her yearbook photo looking out on the Croton Reservoir from a dilapidated train bridge. After the last song had long since faded out on a downer - "I wish I had a rhinestone suit/I wish I had a new pair of boots/but mostly I wish, I wish I was with you/the death of an heir of sorrows" -- my roommate, Paul, found me rigid and catatonic at my desk. Paul eventually dragged me away from the dark spiral of regret and recollection plying me with heavy doses of Jack Daniels.
On Bright Flight, according to my preliminary count, Berman references death (physical, spiritual, sexual, and ideological), and in one case a long coma, in seven out of 10 songs, one of which is instrumental. "I Remember Me," or the (weep sniffle sniffle) coma song as I have taken to calling it, paints the picture of a perfect love "they didn't hide from love you see," but in true Berman fashion happiness never remains at the scene of the crime long. As the love-struck couple pick wild flowers by the side of the road, he turns to propose to her but gets tagged by a runaway truck before he get the words out. While he lies in a deep coma, she marries a banker and moves to Oklahoma.
Recently, I dug up my partial collection of Berman's work starting first with "The Sabellion Rebellion" and "Old New York" 7-inch (Chunk Records), a split single with New Radiant Storm King released in 1993. Berman is joined by his college buddies from the University of Virginia, Steve Malkmus and Bob Nastanovich, better known for their work in Pavement. "The Sabellion Rebellion" 7-inch sounds like it was recorded underwater on a Fischer Price tape deck after a long night of pounding canned beers on the Lower East Side. Despite how that sounds, I'm really quite fond of this record: it's loose, boozy, and playfully irreverent -- recalling the old days when these boys still had day jobs and were making music for kicks.
Next up, Starlite Walker (Drag City, 1994), the Jews' first full-length. I've revisited this album over the years, but never more than once or twice a year. It echoes Pavement's brand of discordant, meandering rock -- guitars that clash and compliment, and vocals that hang in key by a thread. "Advice to the Graduate" contains one of my favorite song lyrics, an off-kilter rhyme that is trademark Berman: "So you got no friends and you wander through the night/ Now you see the sun rise through a rifle site." No doubt Berman adds his strum and hum folk and country flourishes to this album, but occasionally it seems that the songs strain under disparate directions, a tug of war, Malkmus pulling indie from one end with his fractured guitar style and heavy bass, Berman pulling folky from the other with simple acoustic melodies and deep searching vocals.
This might explain why Berman opted for a new line-up on his next album, The Natural Bridge (Drag City, 1996). He dropped Malkmus, Nastanovich, and Steve West, Pavement's drummer who joined the Jews on Starlite Walker, and borrowed Matt Hunter (guitar) and Peyton Pinkerton (bass) from New Radiant Storm King. The result: an album rooted definitively in folk and country that rolls melodic and low key as a full thought, rather than a collection of good ideas. Berman paints his songs with black humor, clever word play, and of course, death, and lost love - deep wounds that have long since turned numb. The Natural Bridge is a good album with a few great songs. Mostly though, I play this album when I want to listen to music, but don't want to be pulled from what I'm doing by songs that require my full attention. Melody Maker Magazine (absorbed into NME in 2000) really seemed to take a shine to it; The Natural Bridge ranked #18 on Melody Maker's 'Albums of the Year' in '96.
Bright Flight, which follows the Jews' third album, American Water (Drag City, 1998), finds them with another revamped roster - pedal steel player Paul Niehaus, and former Papa M bassist Cassie Marrett, among others -- and Berman with a refreshed trove of old demons to exorcize. Poetic as usual, melancholy of course, Berman writes from deep down, the shadowy fringes that most people revisit only in therapy and primal scream workshops. And he's damn good at it. The rolling - dare I say, ragtime -- piano fills and shuffling percussion on "Let's Not and Say We Did" offers a brief glimmer of upbeat sunshine as Berman rambles "Let's walk down the glassy top of a frozen pasture stream/Our minds can dream like soda machines/And that's exactly what we did." Cassie Marrett adds a new, and much needed, dimension to Berman's songs: a woman's touch. Her duets with Berman on "Slow Education" and "Tennessee" are easily the high points of an album that features Berman at his best. (Don't let her get away Dave; she's a keeper.)
If, like me, you enjoy sitting down with a sad album and working your way through past traumas, memories of love lost, and all-time lows toward a serious case of the blue blues, then pick up Bright Flight, turn off the lights, and unplug the phone. But if after listening to the album you find that you're still feeling weepy, reckless, fatigued, worthless, or unloved - the tiniest bit suicidal - please phone your local outreach center; they can help.

--Daniel Schulman

Free Williamsburg© | 93 Berry Street | Brooklyn, NY 11211
[email protected] | December 2001 | Issue 21
Please send us submissions