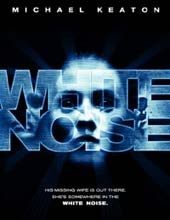 I know January is usually the prime dumping ground for Hollywood fare (their version of "Take Out the Trash Day"), but man, they aren't even trying anymore. The indie world has basically taken the month off, and the rest, well, see for yourself…
January 7
WHITE NOISE
WHAT'S THE PITCH?
What's that voice you hear buried in the static on your radio? It's your long-dead loved one! And they're really bored because apparently all they have to play with in the afterlife is a ham radio.
WILL IT SUCK?
This is from the director of the attempted reboot of "Doctor Who" in the states, and maybe only a seasoned fan can tell you why it was a bad idea to cast Eric Roberts as The Master, but it was. Better yet, the writer penned "Let's Talk About Sex," a movie which spawned the single greatest two-word review since "Shit sandwich," namely "Let's not."

And then there's the theatrical teaser, which bridges the gap between scary and annoying in about two seconds. Here's how it goes, as recorded by my up-to-the-second responses.
"Hey, that's kind of creepy."
"Yeah, I guess that's kind of weird."
"Okay, I get it, she's already dead."
"That guy's voice is a little too deep and scary for its own good. I mean it sounds like he's trying really hard to be scary. Does he sound like that when he's ordering fast food? He must freak out drive-thru attendants. Announcer: 'I'd like a hamburger!' Attendant: 'Don't hurt me!'"
"Oh, my God, is this preview still going on!?"
"Hey, it's Michael Keaton. Remember how good he was in 'Night Shift' and 'Mr. Mom' and, hell, even 'Desperate Measures' was better than the crap he's been putting out lately. I mean, 'First Daughter'?!? What the fuck is that?"
"Wow, this is going to suck."
HOW WELL WILL IT DO?
Not much competition, but not much appeal. Then again, "The Forgotten" did well with a hokey preview. $20mil.
—————————————————————
THE UNDERCLASSMAN
WHAT'S THE PITCH?
Remember that episode of "21 Jump Street" where those guys had started a chop shop but they were really wealthy so why were they stealing stuff? I might be confusing two different episodes here, but pretend that Ioki is Nick Cannon and you're on the right track here.
WILL IT SUCK?
Well, if you cast Cannon in a movie directed by the guy who did, well, nothing you've ever heard of but he directed an episode of "Fastlane," so he's okay in my book, and written by the guys behind "Van Wilder" and "The Girl Next Door," you'd get this. Wait, where are you going?
HOW WELL WILL IT DO?
Marketed well, this could do better than "White Noise." Which isn't saying much. $32mil.
—————————————————————
January 14
ELEKTRA
WHAT'S THE PITCH?
Any movie who's synopsis includes the line "saved from her near-death experience by ninja collective The Order of the Hand" gets my vote. Bottom line: Jennifer Garner goes tear-ass on some motherfuckers.
WILL IT SUCK?
Probably not. Yeah, I said it. Look, you've got Marvel uber-producer Avi Arad on board, and the only Marvel property he's made suck is, well, "Daredevil." But you'll notice the curious lack of any reference to that film in the previews for this one. They won't even say "from the producers of 'Daredevil'" even though this film is a spin-off from that one. In fact, when the two films see each other at parties, it's very awkward.
But give Arad credit for the "Spider-Man" and "X-Men" franchises, each of which have elevated the notion of a film based on a comic book above the status of "money-grubbing" and into the realm of "hey, this is escapist, and it doesn't suck!" Give director Rob Bowman credit for the "X-Files" movie (you can do it). And give writer Zak Penn credit for contributing, well, something to the "X2″ screenplay (I don't know, maybe he got David Hayter coffee or something, but he's listed as a screenwriter).
Okay, maybe I'm expecting a little much, but it's a weak fucking month, people.
HOW WELL WILL IT DO?
The action ramps up next week with "Hostage" and "Assault on Precinct 13," but they may cancel each other out, plus this will probably have what they probably won't: a PG-13 rating. That and Jennifer Garner's cleavage. $103mil.
—————————————————————
RACING STRIPES
WHAT'S THE PITCH?
You'll believe that a zebra can be a racehorse and have the voice of Frankie Muniz. (As if you didn't believe that already).
WILL IT SUCK?
Well, it's got David Spade as a horsefly. How about that, huh? Yeah, it looks pretty stupid. And just the fact that it's coming out in January makes it suspect. But, hey, it's got Snoop Dogg as…wait for it…a dog.
HOW WELL WILL IT DO?
I think even the kids are gonna prefer "Elektra" or even "Coach Carter" to this this week and "Are We There Yet?" the next. Still, it's kiddie fare with no direct competition, so, $41mil.
—————————————————————
COACH CARTER
WHAT'S THE PITCH?
"Lean on Me….While I Make This Jumpshot"
WILL IT SUCK?
Early buzz, not so good. And here's why. In spite of Samuel L. Jackson spouting tough love wisdom in that inimitable style of his that makes it sound like he could kick your ass with his voice, this is still written by the forces behind "The Perfect Score" and "Summer Catch." It's also directed by the guy who did "Swing Kids" (and though he also directed "Save the Last Dance," that still doesn't make up for "Swing Heil!").
Rick Gonzalez is back as another youth finding salvation through sports (see "The Rookie") so if that does it for ya, hellzapoppin!
HOW WELL WILL IT DO?
I get the feeling a lot of parents will take their kids to see this movie since it stresses the importance of academics over sports. Or maybe I'm an idealist. Either way, I think it will pose a threat to "Racing Stripes" on the whole family demographic. Regardless, "Are We There Yet?" will obliterate it the following week. $26mil.
—————————————————————
LES CHORISTES
WHAT'S THE PITCH?
French "Dead Poets Society" with music. Or, I guess, French "Mr. Holland's Opus." Pick your wacky-yet-inspirational teacher cliché.
WILL IT SUCK?
You'd think it'd be good, what with beating out "A Very Long Engagement" as France's submission for Best Foreign Film (actually that was a releasing snafu, but still) and early buzz is good from audiences and The Hollywood Foreign Press saw fit to nominate it for Best Foreign Language film, but even with all that, it can't scrounge consistent critical support. Early buzz from them is that this is too cheesy, which is shocking considering that almost never happens with this genre.
HOW WELL WILL IT DO?
No real competition, but needs more press. With Miramax calling the shots, though, that shouldn't be a problem. $8mil.
—————————————————————
APPLESEED
WHAT'S THE PITCH?
Another dystopian anime future. Whee!
WILL IT SUCK?
This is based on the popular manga from the guy who did "Ghost in the Shell." Early buzz is pretty good, but no one seems totally blown away.
HOW WELL WILL IT DO?
No real competition, but even less advertising than "Les Choristes." And no Miramax. Still, a healthy otaku following can't hurt. $1mil.
—————————————————————
January 21
ARE WE THERE YET?
WHAT'S THE PITCH?
Kids try to make life hell for mom's new beau Ice Cube as he drives them to be with her during the holidays.
WILL IT SUCK?
Remember when Ice Cube was in NWA? Remember when he cut his acting teeth on such fare as "Friday," "Boyz N the Hood," and "Three Kings" as opposed to, say, "Next Friday," "Ghosts of Mars," and the upcoming "XXX2?" This is what Revolution Studios does to you, people! It's nice to see that Jay Mohr will be in this as well. The further he can get from "Last Comic Standing" the better. But Revolution will ruin him, too. Just wait.
Oh, and they've gotten a director for this one who specializes in holiday comedy fare. He directed "Jingle All the Way." That had Sinbad. Let that be a warning to you, Cube! He also directed Cube's fellow "Boyz" alum Cuba Gooding, Jr. in "Snow Dogs." Are you paying attention, Ice?!?
I fucking hate Revolution Studios.
HOW WELL WILL IT DO?
All of the ranting and Revolution-hating in the world won't stop this from making money. Say what you will (and I do), Revolution is really good at hitting singles and doubles (though almost no home runs to date) and that's enough, sadly, to keep you in the game. With almost no family competition ("Racing Stripes" won't be able to hold this back) this looks to clean up. $61mil.
—————————————————————
HOSTAGE
WHAT'S THE PITCH?
Bruce Willis vs. home invaders. With a twist. Several, it seems. Most of which are given away in the trailer.
WILL IT SUCK?
Hard to say. This is based on a novel, which is usually good news for a thriller (as long as it's not Grisham). The writer has done some good ("Die Hard 2″) some bad ("Money Train") and some meh ("Bad Boys"). One of the producers has done a modicum of outstanding work, including "Saving Private Ryan" and "A Simple Plan" and a wealth of crap along the lines of "Virus" and "Speed 2: Electric Boogaloo." Finally, the director has graduated from the world of video games, having done "Splinter Cell: Pandora Tomorrow" and the upcoming "Splinter Cell: Chaos Theory." Mark my words, you're going to see many more directors come up from that world. It's gonna be to this decade what music videos were to the 90′s for director breeding.
Also throw into the mix the fact that Miramax is distributing, and they hardly ever do thrillers, much less star-driven wide-release ones.
Anyway, I'd say it's a fifty/fifty shot. It's neat, however, to see Willis graduate from man on the inside ("Die Hard") to the guy on the other end of the walkie/cell phone.
HOW WELL WILL IT DO?
It's facing competition this week from "Assault on Precinct 13″ and from the previous week in "Elektra." Of the three, however, this does have the biggest name. If they start advertising early enough ("Elektra" has a big head start), they might be able to take more advantage of that fact. $40mil.
—————————————————————
ASSAULT ON PRECINCT 13
WHAT'S THE PITCH?
Remake in which good cop (Ethan Hawke) stands off against bad cop (Gabriel Byrne, natch) staging a siege of said precinct in order to kill sort-of-good-maybe-bad gangster (Laurence Fishburne).
WILL IT SUCK?
Well, chances are it won't be as good as the original, which is highly regarded (as far as John Carpenter films go). But it should at least be as good as "The Negotiator," which isn't saying much, but it's the same screenwriter and the plot, as imagined this time around, seems virtually identical (just without the, y'know, negotiator). The only thing really to look forward to is John Leguizamo's crazy hair (see the trailer).
PS: The next Carpenter remake will be "The Fog." I shit you not. I can't wait til they remake "They Live" with an even LONGER fight between Keith David and Rowdy Roddy Piper.
HOW WELL WILL IT DO?
Against "Hostage," not so well. They should have released this a week later. $33mil.
—————————————————————
MILK AND HONEY
WHAT'S THE PITCH?
Couple out on the town disintegrate during one night in New York. Kind of like a really depressing "Out of Towners."
WILL IT SUCK?
Did you like "Virgil Bliss?" Have you even heard of "Virgil Bliss?" It's this director's debut feature, and it received raves. This one's not getting unanimous advance love, but it, too, seems well-liked. And Hal Hartley did the music for some reason.
HOW WELL WILL IT DO?
Not much competition, but the lack of awareness on this title makes "Les Choristes" look like "Crouching Tiger, Hidden Dragon." $100,000.
—————————————————————
BEAUTIFUL BOXER
WHAT'S THE PITCH?
Kind of like "Kickboxer," except imagine if Van Damme were Thai, and a transsexual. Based on a true story.
WILL IT SUCK?
Early buzz is very good. Won some fests. And you gotta admit, that's one of the more intriguing premises of this month. Yes, I know, "White Noise," the dead are talking. But are they transgendered kickboxers? I didn't think so.
HOW WELL WILL IT DO?
Could do well with the right buzz and strong word of mouth campaign. They're doing a limited release in San Fran and if the gay/lesbian/transgender vote catches on, a similar push in NY and LA, with accompanying press, could lead to decent indie b.o. in a fairly thin field. But that's a lot of "if's". $500,000.
—————————————————————
January 28
HIDE AND SEEK
WHAT'S THE PITCH?
Dakota Fanning's got a new, creepy imaginary friend. Dad Robert DeNiro gets caught in the crossfire, and tries to figure out if he or Dakota has been in more films in the past year.
WILL IT SUCK?
If only they would say in the trailer, "From the director of 'Swimfan'," I think this would get a lot more business.
HOW WELL WILL IT DO?
Talk about crappy timing. This week it's got another paranormal thriller, "Alone in the Dark," to contend with, and the very next week "Boogeyman" opens. Neither of these present a threat per se (and this one definitely has the star power) but all at once? Release "Assault" this week, "Hide and Seek" the previous week. How hard is that? Also, DeNiro doesn't do well in thrillers (see "Godsend"). $15mil.
—————————————————————
ALONE IN THE DARK
WHAT'S THE PITCH?
Weird paranormal goings-on with Christian Slater. Based on the popular (until this comes out) video game.
WILL IT SUCK?
Well, with Tara Reid, Christian Slater, and Stephen Dorff on board, what could go wrong? Actually, I'd love to see Christian and Stephen try to out-Jack-Nicholson each other. Plus, this is from director Uwe Boll, who has no less than three more video game adaptations in the works. He made this one based on the strength of another video game adaptation. Which one? I'll give you a hint. It's #30 on the IMDB's bottom 100. That's right. "House of the Dead."
HOW WELL WILL IT DO?
All right. Since it's a video game, it probably has some action, no? This brings it into competition with not only "Hide and Seek" on the horror front, but also "Assault" and "Hostage" from the week before (not to mention "Boogeyman" the following week). So what does that all mean? "House of the Dead" grosses might look good by comparison. $5mil.
See what I mean? They just phoned this month in. Next month doesn't exactly make this one look good, but it's not far off. The simultaneous release of "Constantine" and "Son of the Mask" alone may create a vortex of suck so strong that no other movies get released as a result.
One Response to "January 2005 Movie Preview"