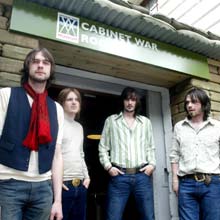 Kasabian are one of the big bands of the past year from England. They have been compared to everyone from Stereolab to Stone Roses to Primal Scream. They had four hit singles, and their first album came out in Fall 2004 and sold over 250,000 copies. Their shows have all been sold out all over England in the past year. The rise of Kasabian has been fast. A year ago they were unknown. Now they have played a sold out show in New York at Bowery Ballroom in November, without having any formal releases.
The group, who will embark on a month-long tour supporting The Music, is set to kick-off mid-February in NYC and end in March at SXSW. They're from Leicester, England and are named after one of the killers involved with the Manson Family. I spoke to lead singer, Tom Meighan, around the beginning of the year, about this phenomenal band. Kasabian is Tom Meighan (vocals), Sergio Pizzorno (lead guitar, keyboards), Chris Edwards (bass) and Christopher Karloff (guitar, keyboards).
**********
AL: When did you record the album?
Tom: We recorded the album about a year ago at the farm. We had to move away from the city to get our heads together. We had to do that to record this beautiful baby of ours. If we would have done in a proper studio in the city we would have been out of it. We had to get our heads together and concentrate.
AL: How long was the recording process?
Tom: It took about eight months altogether. We had skeletons of songs for a long time. We knew what we wanted to do. We had the songs in our minds. We lived like hippies man for two years. It was amazing.

AL: It was like a commune?
Tom: Yeah, it was kinda like that. Not far off it. There was not much health food. It was all rubbish food mate and junk food. We ate boxes of potato chips.
AL: Was there any bin driving?
Tom: There was plenty of that mate.
AL: When you record a song how do you go about it?
Tom: We start to get into an idea and put it down. We start with the computer. We start with the beats. Sometimes we lay down some guitar. Sometimes Sergio writes down some guitar parts and brings that in to the rest of the band. It's much like how you would do a hiphop album.
AL: Most of the members of Kasabian grew up with rave culture and much of that music is computer based. Since you are a rock band you would think that some of these tracks are live takes.
Tom: No, they weren't. We just went in there and played it. Some of it was one take and some of it wasn't. It all depended on how we were feeling and how the mood was. Sometimes we would attack a song in one take or a few takes. We wouldn't take that long there. We were trying to create a vibe. It was quite simple.
AL: How long have you been touring?
Tom: We have been playing nonstop since February 2004. We have played Japan. We have been to New York. We played Bowery Ballroom. We have been to Europe. We have been all over England. We have probably played 130 gigs this past year. It's been pretty tense. The year before we probably only played forty shows altogether. We are just finding our feet live now.
AL: What were the earlier shows like?
Tom: They were alright. We tried some more experimental shit out. It was like a wall of sound. We knew we had to perform more and get better. Sometimes we hit the bull's eyes.
AL: You were on the cover of the NME recently. How do you feel about that?
Tom: It's amazing. We have been waiting seven years for it mate. When it happens to you, you can't believe it. They had to put us on there. There was nothing they could do about it. They had to write about us. It's a wonderful thing. I remember buying an NME when I was sixteen years old. Richard Ashcroft was on the cover. I was thinking to myself wouldn't it be amazing one day if they put us on there. We got on there. We were laughing at the picture. We felt like kids again. It's a proud moment.
AL: So now even people who don't even follow music recognize you?
Tom: It's a bit different from how it used to be mate. Six months ago no one gave a shit. It's changed really fast. You are right. People recognize us. Friends call up and want tickets. When you are in a popular band it is all very flattering. I find it all amazing.
AL: How do you write songs in the band?
Tom: Sergio and Karloff do the music and the tunes. Sergio writes most of the lyrics.
AL: What are your songs about generally?
Tom: I would say that the songs are about a mish mash of the world today. Sometimes there are some jumbled up words that don't really mean anything, but it's all quite positive.
AL: I heard some stuff that you said about Keane. It was like there are rock bands and then there are these student types. Sometimes when you go to a festival you have to sit through all these bands with high voices and who wear sweaters.
Tom: They are alright. There will always be students who want to be in bands. The good thing about Kasabian is that we got the students who want to watch us play as well. We got the cool students. We got the hooligans watching us. We have boyfriend and girlfriend watching us together. There are teenagers. We have all types of people at our gig, which is a great thing.
AL: Sometimes you heard an amazing record by Radiohead or Gomez and then you see them live and they look like a bunch of dicks.
Tom: Yeah. Radiohead are amazing. They are clever. Gomez are a good band. What happened to them?
AL: I think that their label dropped them. They have been playing a lot live in the Unites States. When was your record released?
Tom: It came out three months ago and it's doing really well. It comes out in the USA in March 2005. It should be awesome.
AL: You are coming over for a big tour?
Tom: We are coming over for about three months. It's absolutely thrilling that we are actually coming over to the States and playing.
AL: You already played one show in New York at Bowery Ballroom. What is the show going to be like?
Tom: When we play we are going to be on fire. We are going to be locked and loaded. We are going to be ready to go. We are going to give you our heart and our blood, man. We are going to give you a rock and roll show. We are going to spill our blood. We are not lying to you. You are going to fucking believe it. It's going to be like an electric pole fucking hitting you really hard in the balls. It's going to throw you around. You are going to love it.
AL: Maybe you don't want to be in the front row or you'll get hurt?
Tom: Your head will be bleeding if you are in the front row, I'll tell you that.
AL: If you are an American girl and you are a big fan of Kasabian, where do you line up to get a proper introduction to the band? Is there a hotline?
Tom: No. Just come to the back room at the venue, line them up, one by one.
AL: How are you going to prepare for this tour?
Tom: We are playing a few shows before the American tour. Hopefully we will have some time to go home and eat some turkey and chill out. We will try to detox. But that will never happen. We will be there in March.
AL: Have you played with The Music before?
Tom: No, we haven't. We are friends with them. They are top guys. They are a good band.
AL: Kasabian is mostly from Leicester, England. What is that town known for?
Tom: It's known for nothing. You remember that guy Englebert Humperdinck? He knocked off the Beatles from number one? He's the only guy from Leicester who is known to anybody.
AL: I didn't realize that he is English.
Tom: Well, he pretends to be. I am not sure what he is. Leicester is right in the smack middle of England. We are the only thing that has come from Leicester.
AL: Are there any other bands that you like?
Tom: I like Black Rebel Motorcycle Club. They are cool. I like Mad Action.
AL: What other things do you do with your time besides music?
Tom: I just get stoned mate. I get pissed.
Website: www.kasabian.co.uk
2005 Kasabian Tour
Kasabian appearing with The Music
Thu 02/17/05 New York, NY Irving Plaza
Fri 02/18/05 Washington, DC 9:30 Club
Sat 02/19/05 Philadelphia, PA Theatre Of Living Arts
Tue 02/22/05 Providence, RI The Call
Wed 02/23/05 Boston, MA Paradise Rock Club
Thu 02/24/05 Montreal, QC La Tulipe
Sat 02/26/05 London, ON Centennial Hall
Sun 02/27/05 Detroit, MI St. Andrews Hall
Mon 02/28/05 Covington, KY Jillian's Entertainment Center
Wed 03/02/05 Chicago, IL Metro / Smart Bar
Thu 03/03/05 Saint Louis, MO The Pageant
Mon 03/07/05 Seattle, WA Neumo's
Tue 03/08/05 Vancouver, BC Commodore Ballroom
Wed 03/09/05 Portland, OR Crystal Ballroom
Fri 03/11/05 San Francisco, CA Slim's
Sat 03/12/05 Los Angeles, CA Music Box At The Fonda
Sun 03/13/05 San Diego, CA Canes
Tue 03/15/05 Tempe, AZ Marquee Theatre
Thu 03/17/05 Dallas, TX Gypsy Tea Room
Fri 03/18/05 Houston, TX Meridian
Sat 03/19/05 Houston, TX Meridian
9 Responses to "Kasabian Interview"