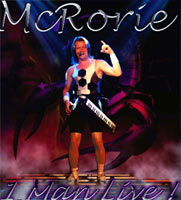 The Man, the myth, the Band – MCRORIE!
This is the time of the year when people began announcing their Man of the Year awards. Let us be the first of surely many to announce MCRORIE-One Man Live! as our choice.
This one man band wears eight custom designed sensors on his shoes, two midi keyboards on his hips, and sings lead vocals, harmonies, and solo instruments with his voice.
In short, Mcrorie rules. Check out his home page to see him and hear him in action.
10 Responses to "Mcrorie – Man of the Year"